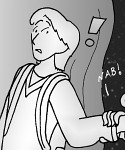 First appearance: August 28, 2002
Todd Mallory is a college student pursuing a degree in computer science. Like many his age, he still wonders about where he's going in life and what the end result will be (don't we all?). Events of the past few years, including learning about a past life and the reintroduction of Scott Harbor, have led Todd to be somewhat pragmatic, if not a bit cynical, from his original innocent and enthusiastic demeanor.
When Scott invented time travel, Todd intended to use the technology to go back and save his mother from a fatal car accident with a drunk driver. Todd's intervention in fact caused the event, driving him into a depression that would not alleviate for many months. This came on the heels of Sarah Conner asking him out since he didn't have the nerve himself. They eventually did form a relationship, but Sarah's own past intervened and brought it to end.
Scott's creation of dimensional travel once again prompted Todd to tag along uninvited. Through a series of events in other dimensions, Todd became adept at defending himself but not well enough to prevent capture by The Guardian for his role in the creation of Scott's time and dimensional travel device.
Current status: Held prisoner by The Guardian